About Us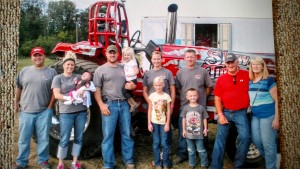 Owned and operated by David, Chad and Clayton Darlage, "Show Time Performance and Restoration" specializes in tractor restoration of any make and model.  We offer full or partial restorations as well as paint jobs and repairs.  
No job too big or small, we would love to have your business.
 With 70 plus years of combined experience in mechanics, painting, tractor restoration, and competition tractor pulling, we are ready and willing to serve you in any way.
       Our Mission is to provide you with the Best Quality work at the Most Affordable Price.  Because of our privately owned, family business, our prices will not be beat.  We will guarantee you 100% satisfaction as well as thorough communication throughout the process.
       We focus on the 06, 56, 66, 68, and 26 series International and Farmall tractors, but are not limited to working on these models. We have restored International, Allis Chalmers, Case International, Ford, and Massey Ferguson Tractors.  Our finished product tractors in over 25 different states and several in countries outside of the United States.  It has been a pleasure being able to meet so many neat people from this business.
       Feel free to contact us with any questions about our tractor restoration processes, we would have happy to speak to you about our restoration process.   Our shop is located outside of Seymour, Indiana
Show Time Performance
About time to get ready for Gordyville USA!!

Time to get ready for the 14' Summer!

The Show Time crew will be heading to Shepardsville, KY this weekend to battle some more Outlaw SuperStock with the B.O.B. Photo courtesy of the newsexaminar.com from Connersville, IN NTPA Limited Pro Stock with Chad in the seat.

Old school picture from the early, early 90's. This was dad's first "full time" pulling tractor named Operation Red Storm. No longer were parts put on a tractor and taken back off to farm with. That's Clayton in the seat!

Show Time at Tampico 2014

Show Time 2011 at Henry, IL America's Pull

Show Time at Freedom Hall

bits and pieces of Show Time

Show Time the last year as a Super Farm

Show Time at Freedom Hall

2011 Winner at America's Pull - Henry, IL